How Can Integrity Help My Chiropractic Clinic?
We have programs for every chiropractic experience level!
We are here to give you the perfect business system to successfully manage the business side of your chiropractic practice. Our custom chiropractic consulting system will grow your business and improve your entire chiropractic team. But that's not all! We connect you with expert chiropractic business coaches who have already successfully applied the Integrity system in their own practices! Your Integrity Doctors chiropractic coach has mastered the Integrity system and will hold you accountable to make sure you not only learn the system, but that you actually apply our business management fundamentals to your own practice! Together, we will show you how to implement the most successful chiropractic business system on the planet!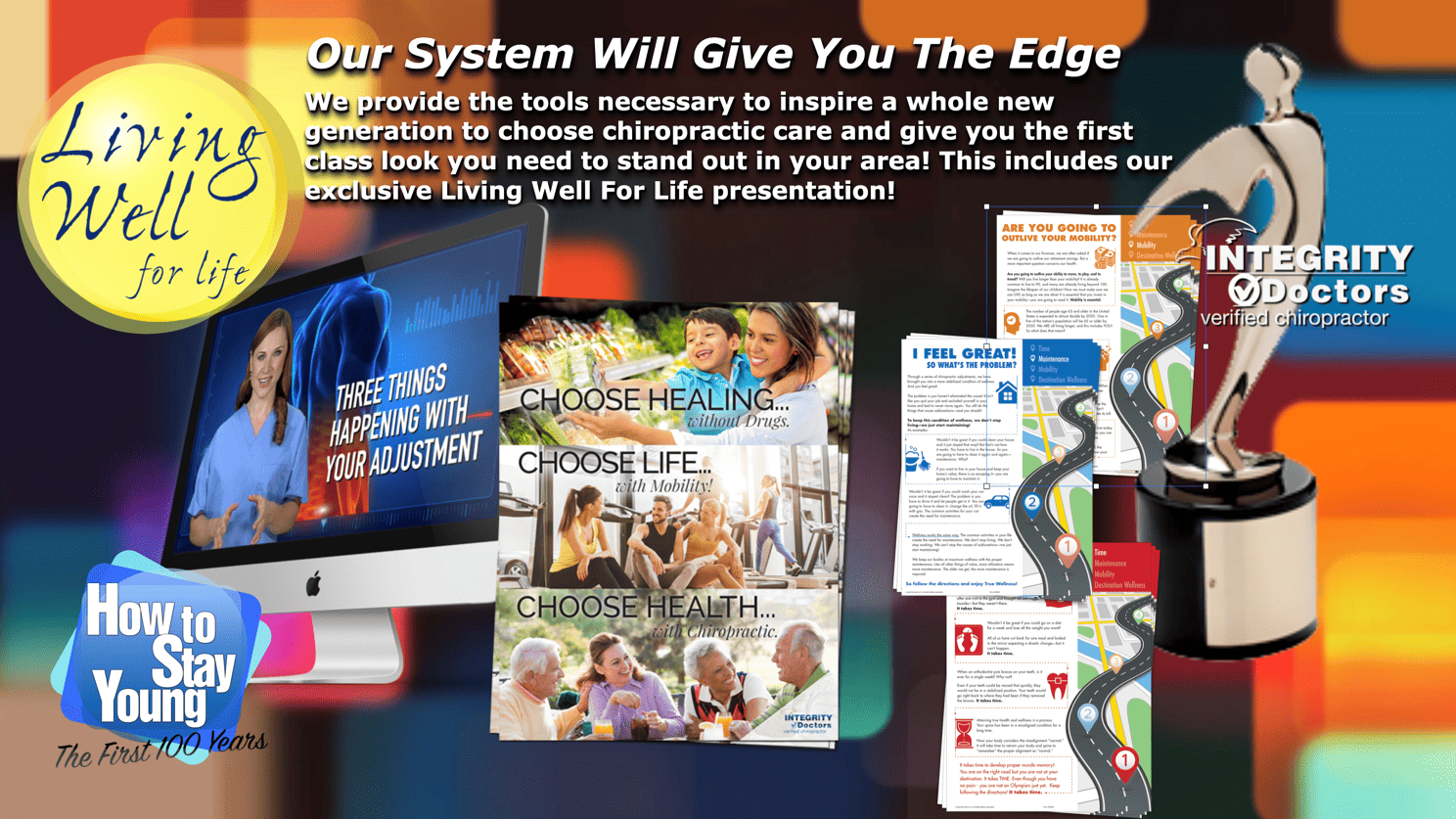 Exclusive Materials
As an Integrity Doctor you will get full access to our members only Integrity Doctors Connect app. This app contains hundreds of exclusive chiropractic business content including our exclusive Living Well For Life presentation that is unrivaled and unmatched anywhere else.
Integrity Student Club
At Integrity Doctors, we believe that all students should be better trained on what to expect in chiropractic business. That's why we are dedicated to giving you the tools you need not just when you graduate, but while you are currently in school. You're invited to take part in these incredible opportunities for FREE while you are a student!
Simply join our FREE Student Club Mobile App! Here you can discover new and exciting opportunities including area events, office tours, associate jobs, preceptor positions, and other ways to interact with some of the top doctors in the profession! Don't wait, join the conversation now!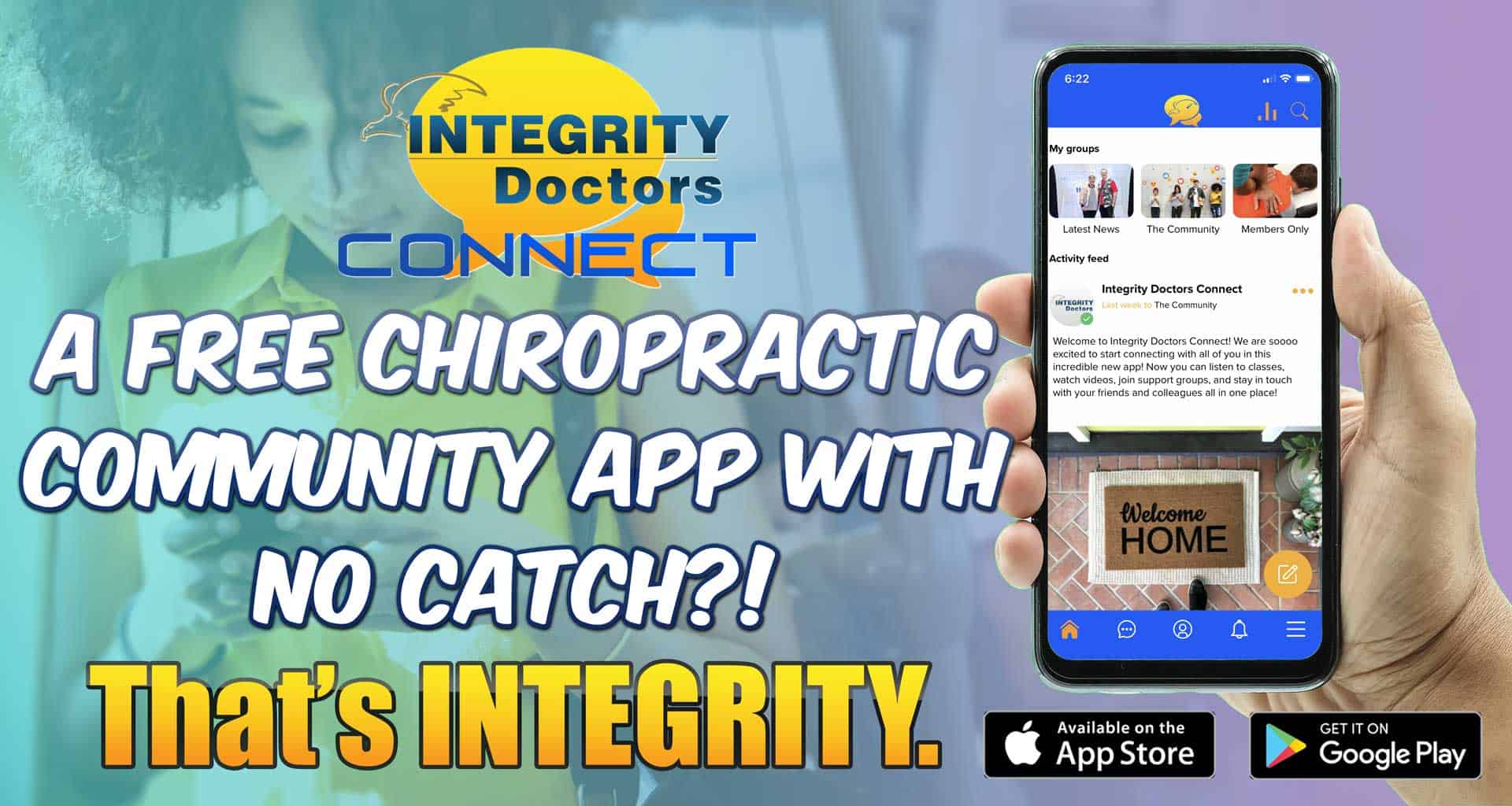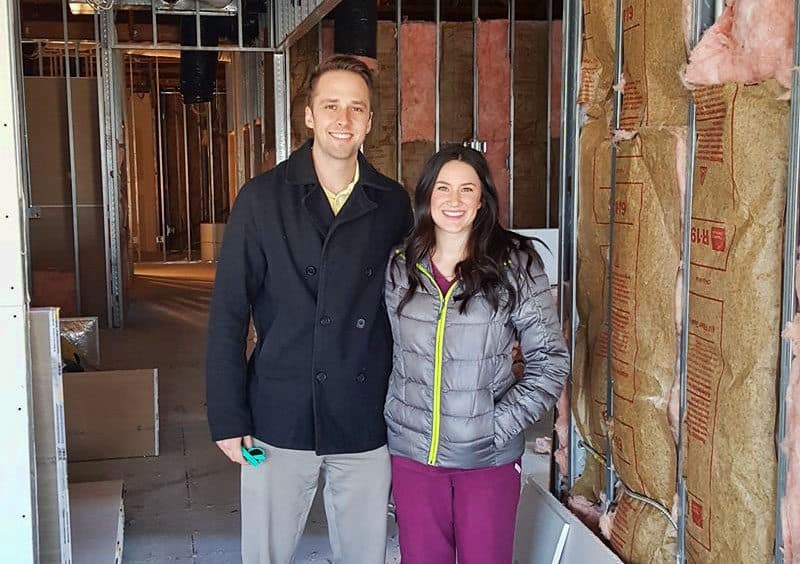 The QuickStart Program
Whether you need to start from scratch or start over, our QuickStart program will make sure you have the fastest and easiest transition to opening a brand new chiropractic clinic. Our expert QuickStart chiropractic coaches specialize in opening new chiropractic practices and will give you the confidence needed to start your new chiropractic business. Follow the link to learn more about our
chiropractic consultants
and
contact us
today to register for an
Integrity Doctors chiropractic seminar
in a city near you!
The Fresh Start Program
Not everything in chiropractic business goes as planned. Maybe you tried doing it on your own or have gotten into a situation that feels impossible to get out of. No matter what has happened to you in the past, our chiropractic consultants have a solution for you to move on and move up! Our Fresh Start program will give you the guidance necessary to get back in control as quickly as possible!
What we are offering you is a practice do over. The ability to have a fresh start in practice and experience practice the way you THOUGHT it was going to be! We have structured our Fresh Start program so you can get started with us at an extremely affordable price even in the tightest financial situation.
This is your mulligan! Take it! The truth is, with a few instructions and a few corrections practice could be a whole lot better and more fun! It can go the way you envisioned it and even much more.
Integrity Elite Program
Feeling lonely at the top? Have you been looking for a group of other successful chiropractors to associate yourself with? Look no further than the Integrity Elite. With more than 500 members at an average age of 31, these impressive chiropractic clinics all collect a minimum of $40,000 per month and are changing the face of the chiropractic profession. Join them in one of our luxurious
chiropractic seminar locations
and experience what it's like to be amongst the best!
We Have A Dream For Chiropractic Care.
We are in the business of helping chiropractic practices
,
like yours, but as Integrity Doctors
,
we choose to do more. As a part of all of our Integrity programs
,
we want you to not only share the word about
the many benefits of
chiropractic
care
, but
to also
build a stronger and healthier
wellness
community. We already know that chiropractic will forever change and improve
the health and wellness of our
patients, but it
is simply
not enough to just have a few patients. We need 80
percent
of this country regularly utilizing chiropractic care! That's the dream! We are #AllOutFor80! 
As the world's largest, most successful team of chiropractic coaches, we educate other chiropractors on managing and growing a successful chiropractic practice. Contact the Integrity Doctors team to learn more, and to
get started
on your path to success!  
$10,000,000 Raised For Charity Since 2013
That's an incredible amount of money, help, passion, and support. But this is only the start as the Integrity
S
ystem is implemented in more offices all over the world! Here's a list of just some of the incredible charities that have benefited from
t
he Integrity System and our community marketing efforts:
Make-A-Wish Foundation
American Cancer Society
United Way
Salvation Army
Catholic Charities
St. Jude Children's Research Hospital
American National Red Cross
Habitat For Hummanity
Boys & Girls Clubs of America
Susan G. Komen For The Cure
Teach For America
Shriner's Hospital For Children
The Humane Society
The Wounded Warrior Project